Snorkeling in Tenerife
Freediver? Scuba diver? Beginner? Or maybe you just like looking at crystal clear waters and won't mind seeing what's underneath? Whatever the case may be, if you're looking for the ultimate diving or snorkelling experience, Ola Diving is your best option in Tenerife!
We bring you to the turtle spot near to beautiful cliffs along the coast, perfect weather conditions and clear waters that are a constant in the south of the island, packed with spellbinding features such as dolphins sightings, outerworld rock formations and a diverse marine life, Tenerifeis the ideal environment for a scuba diving and snorkelling vacation. And Ola Diving will bring you to have the best of it.
What's Included

Guided Snorkelling Trip
Snorkel Gear: Fins, Mask, Snorkel
Fresh water rinse for your gear
Water and light snack
Flotation Devices

Bring With You

Suitable clothes for the weather
Contact Lenses if you wear glasses
Swimsuit
Sunscreen & Hat
BRING A TOWEL

About The Tour

Preparation at the diving centre at 9:00 am
Tours leave the port at 10:00 am and is back to the port at 14:00
20 minute boat ride to the marine park
Swim and snorkel at turtle spots
Free drinks back to the shop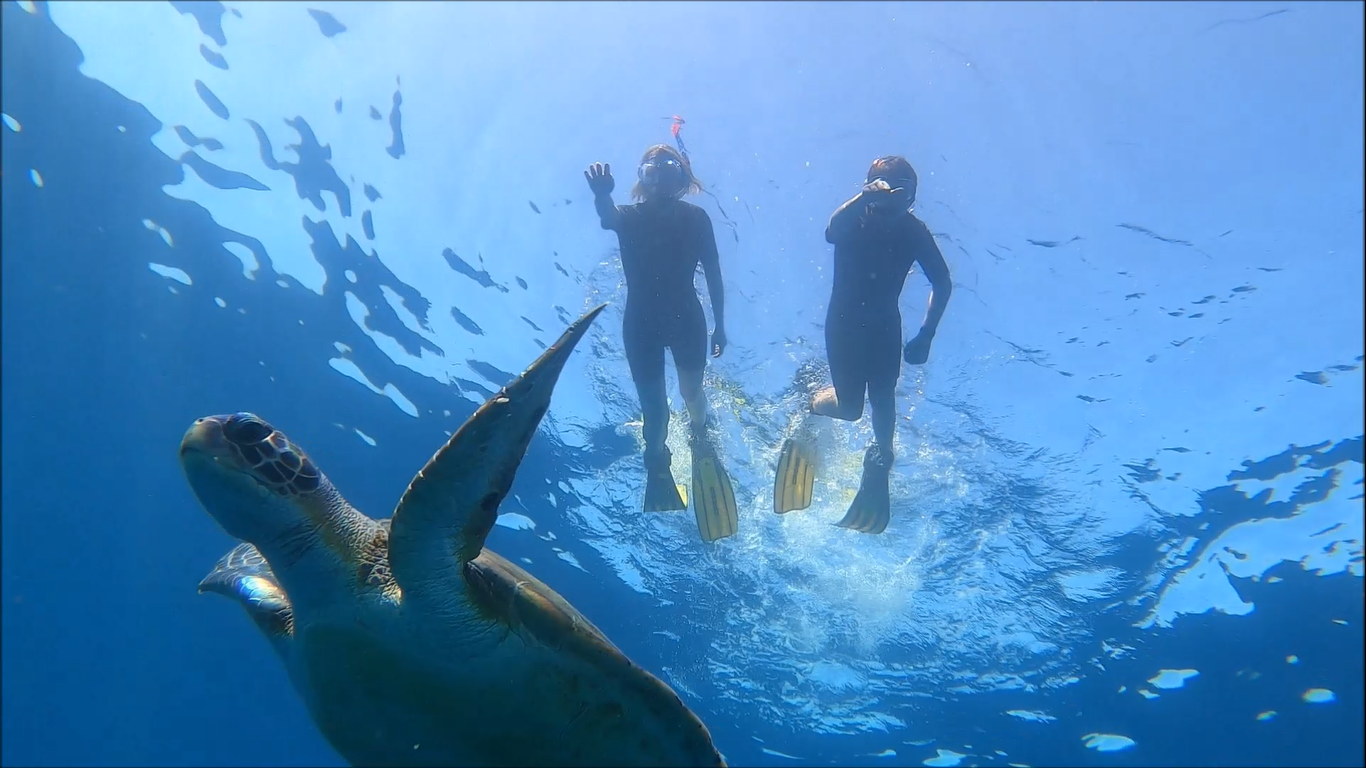 Once equipped with everything you need to snorkel like true professionals (wetsuit, mask, tube and fins), you will receive prior recommendations from the instructors and then we will go to the area where we will dive: Palmar wall. If the weather conditions were not optimal there, we would move to another area called El Puertito, a place that has nothing to envy El Palmar. Both places offer a unique environment to snorkel and while we go there, you will enjoy a ride on the semi rigid boat for about 15 or 20 minutes, where you can admire the beautiful views of the southern coasts of the island.
Once there, the instructor (s) will give you a series of basic notions and tips, so that the experience is as fun and safe as possible. You will carry out snorkeling activities on your own, always under the supervision of an instructor or boat skipper who will monitor you from the boat. On board, we have vests at your disposal for those who need more buoyancy in the water.
Snorkeling in this part of the Tenerife coastline will allow you to contemplate various marine species such as turtles or parrot and trumpet fish, as well as other indigenous specimens of the Canary Islands. The large number of exotic and endemic species in the Canary Islands, as well as an amazing underwater landscape and the quality of the water, make these places one of the best places to practice snorkeling with the family.
Remember that it is about seeing the animals and fish in their natural habitat and that this is not like going to the zoo where the animals are locked up and available 24 hours a day, we cannot guarantee 100% the presence of the turtles at the time or day we do the excursion. We also remind you that we must respect them, and we must not feed or touch them, much less try to catch them, we must respect their space and we will only enjoy as observers.
*We recommend you to bring a bottle of water.
*No type of medical examination is necessary, but if you have questions about your medical condition or want to notify them of any particular ailment, do not hesitate to talk to the instructors (asthma, allergy, pregnancy ...).