Diving in Tenerife ,the best diving places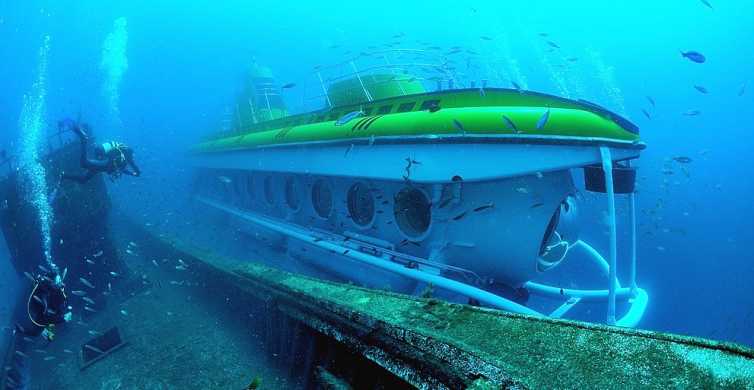 The island of Tenerife is a paradise for the practice of water sports, especially and increasingly, it
attracts lovers of scuba diving. It is impossible to visit the island and not snorkel, kayak or dive. Diving
in Tenerife is quite an experience thanks to its crystal clear waters with good temperatures all year
round and its pleasant climate. Next, we reveal the best places to dive. From sunken ships to diving
with turtles, there are wonders waiting for you down there.
In Tenerife, along the entire coast of the island, there are more than 60 dive sites of all levels of
difficulty. To this we must add that it is possible to dive in Tenerife at any time of the year thanks to
the fact that the water temperature is constant. In winter the average temperature of the water is 18
degrees and in summer it can reach 27. In addition, the waters are very clear, reaching a visibility of up
to 25 meters.
To venture to any of these dive sites, you need to go by boat. our diving center has two different boats
in two ports in strategic places in the south of the island, and it will not be a problem to take you
wherever you want.
Wrecks of Puerto Colón – Twin Wrecks in the municipality of Adeje
Actually, they are two small boats, hence the name The Twins. Both were apparently intentionally sunk
in the late 1990s. Rays, or mongrels as we call them here, are often seen resting under the hulls of
these boats. Around there are snorers, which is why the amberjacks usually come to hunt in this area.
You can also see fire worms, shrimps, anemones and lizard fish. Further on a small statue draws
attention.
-Difficulty: Low.
-Maximum depth: 20 meters.
-Immersion time: 35 minutes.
Condesito wreck in El Palm-Mar, in the municipality of Arona
This 30-meter ship ran aground off the coast in 1971 and is currently sunk in a 20-meter submarine
canyon. It is fragmented into several parts along the coast. In it you can find fire worms, scrapers,
breams, lizards, breams, trumpets and catalufas. On the sandy bottom there are caps and pooches. If
you like sunken ships, this is one of the best places to practice diving in Tenerife.
-Difficulty: Low.
-Maximum depth: 20 meters.
-Dive time: 50 minutes.
The Rays in Las Galletas, in the municipality of Arona.
In this dive, as its name indicates, we are going to find precisely black pooches. In addition, there are
large concentrations of fish, mainly breams and grunts, as well as rays and barracudas. There are small
caves along the coast where anemones and banks of salemas hide and if we are lucky, turtles can come
to greet us.
-Difficulty: Low.
-Maximum depth: 25 meters.
-Dive time: 50 minutes.
Yellow Mountain in Costa del Silencio (Ten Bel), in the municipality of Arona
Montaña Amarilla is a rock formation, a protected natural monument of volcanic origin that owes its
name to the color of its rocks, which change the intensity of their color depending on how the light
hits them.
Following the seabed we will cross three different reefs with large and high walls of volcanic rock: they
are La Aguja, La Piedra Narayan and La Puerta.
The petrified dunes are part of the yellow mountain with flat rock bottoms with different cracks and
strange shapes where yellow sponges have grown. The fauna of this place is very wide and diverse:
mongrels, scrapie, angelshark, mantellinas, yellow sponge, octopus, cuttlefish. In this dive there may
be a background sea, so it can only be done in optimal conditions.
-Difficulty: Low.
-Maximum depth: 25 meters.
-Dive time: 40 minutes.
Palm Mar Caves, in Palm Mar, municipality of Arona.
Also called Cueva de Juanito, this is one of the preferred dives for experienced divers. This area is full
of life, we will be able to observe all the species of rays of the Canary Islands. The variety of marine life
is such here that it makes this site one of the most incredible in Tenerife.
-Difficulty: medium high
-Maximum depth: 40 meters.
-Depth of immersion between 15 and 40 meters, the entrance of the cave is located at 27 meters.
-Dive time: 35 minutes.
Palm Mar Wall in Palm Mar, municipality of Arona
Is a fun dive for all certification levels. There you will find from rays to turtles, to beautiful moray eels,
this dive is so full of life that it has become the most popular in the south of Tenerife these years. Its
different depth levels mean that we can take beginners for their first diving baptism as well as
experienced ones or underwater photography enthusiasts.
-Difficulty: low
-Maximum depth: 25 meters.
-Depth of immersion from 8 m to 25 m.
-Dive time: 40 minutes.