Discover a new scuba diving experience in Tenerife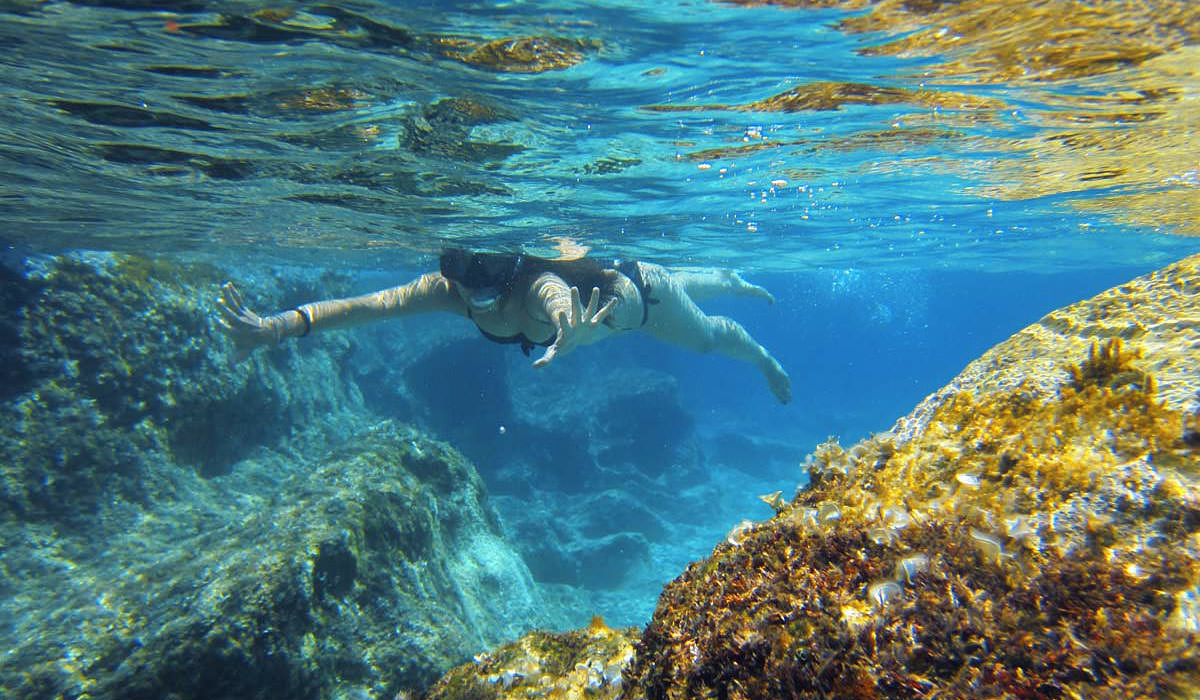 Before we begin, here are some questions for you:
1) Is the first dive difficult?
2) Do I have to be in good physical shape to dive?
3) How to gain courage and finally start?
4) How to find the perfect diving school?
Next, we will clarify your doubts:
1. Diving, according to statistics, is practically the safest sport. Danger can appear when you stop following the rules. Toresume, the possibility that an accident can happen is minimal. What rules must be followed? They are quite simple: you can't dive in unknown places without having the necessary experience, you can't dive alone, you can't dive too long or too deep, you can't touch or disturb sea animals.
2. Now from a physical point of view, diving is not considered a difficult or exhausting sport. The first scuba dive, commonly called the try dive, uses much less energy or requires much less effort than other popular sports, like for example, playing tennis, doing spinning or playing football.
The most strenuous part of diving is the process of putting on the scuba equipment, as well as the jumping in the water. But once in the water, your body will weigh less due to the lack of gravity but you will have a little more difficult to breathe than on the surface. That's why divers always move slowly underwater, like astronauts moving through outer space.
You don't have to be a professional swimmer to dive. In the water we do not swim with our arms, we float and use our fins to move forward. So even non-swimmers can take a trial dive with the help of an experienced and suitably qualified instructor.
3. The next question that awaits beginners who decide to dive underwater is the fear of not being able to breathe underwater. You have to convince yourself that if all divers can do it, you can do it too. This is how you overcome your fears. In most cases, the process of self-persuasion in children is much faster than in adults. After practicing in shallow water, your brain will adapt to the environment and certainty will be replaced by a wonderful feeling of peace and quiet swimming underwater. It's a matter of relaxing and concentrating on breathing only through your mouth, deeply and as normally as possible.
4. And now, after the main doubts have been dispelled, let's see how to find a suitable dive center. You can go to diving schools that belong to large and recognized diving associations such as CMAS, PADI and SSI. Said centers will teach according to the international standards of these associations for safe diving, because if these standards are not followed, they can lose their licenses.
The TRY DIVE programs may differ depending on the dive centers that offer them and the instructors that run them. For example, you can dive from the shore or from a boat, you can choose to do the course in large or small groups or individually. The instructor can have you dive together in a pool or shallow water for a few minutes holding you by the tank, or the school can propose a full scuba course that includes not just practicing the most basic shallow water diving skills , but also theoretical training. Additionally, programs can include a full dive to a depth of up to 12 meters lasting 45 to 60 minutes. There are many options for all wishes and pockets. It is important to choose the right instructor and experience in order to have a great time.
To finish, we will give you a couple of tips:
For first-time diving, we recommend choosing to dive into the water from land as it is much easier than having to jump from a boat. Diving from the shore (and not from a boat), make you gradually sink into the water as you walk, starting from shallow water, and therefore the body will gradually get used to the new conditions. The boats are usually small, wobbly, the water is deep from the start and novice divers are often a bit overwhelmed by so many new sensations. Also, from a boat, you will have to go down the anchor line to dive, so many beginners are not prepared, for them, such a descent may seem too steep and fast.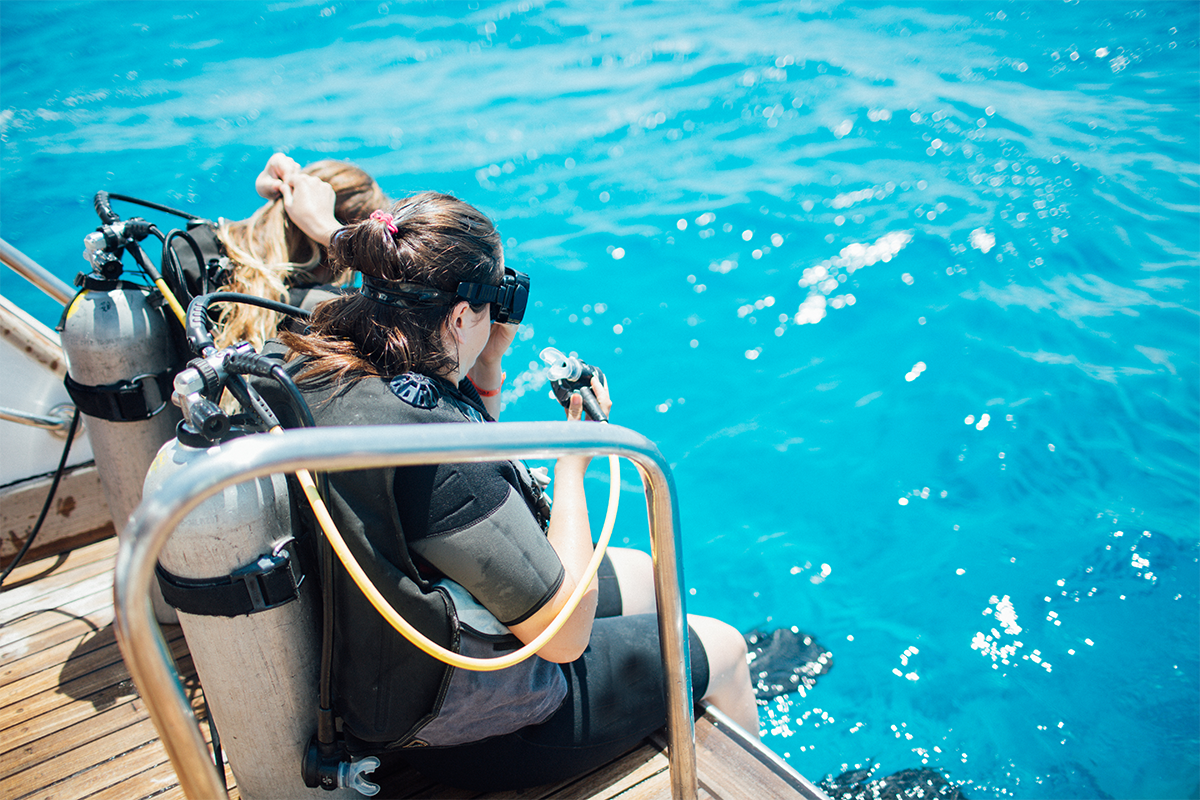 By having your first diving experience, you will overcome the psychological barrier. If you are surrounded by a relaxed atmosphere in the selected dive center, if the professionals pay enough attention to you, then you will overcome this barrier quicky, and easily, your experience will be stress free. On the other hand, be careful if you choose a very busy dive center that offers many different schedule of dives sessions per day. You probably find a very busy schedule with too many clients and as a result the dive will be interrupted at your first difficulty you have with an instructor not having enough patience or time to help you work through your apprehensions. Therefore, it is very important that you not only choose the right dive center, but also take enough time to complete all the activities and theory classes. Only then will you enjoy an incredible experience in the water.
We recommend always if you can ,not book your first diving experience through an excursion agency or a tour operator, it is most likely that they will not offer the best and most reliable diving school, but the one that pays them the highest commissions. Often, the tour agenciescommissions can be up to 60% of the total sales price. This is why, in order for the business to be unprofitable, the dive center is forced to compensate for the loss of income either by offering a lower service, organizing trips in larger groups or offering more outdated equipment and services.
As an additional reason to work directly with the diving schools, instead of booking your dive through an intermediary, is that by contacting directly with a professional diving center, you will not only have correct information and an instructor to answer all the questions you have before booking your first dive, but you will also be able to establish a first trust contact with the center staff and together choose the TRY DIVE course that is right for you and gives you maximum enjoyment.
And now that we have clarified all your doubts, we are waiting for you to dive!