WHAT IS PADI DIVEMASTER INTERNSHIP WITH OLA ABOUT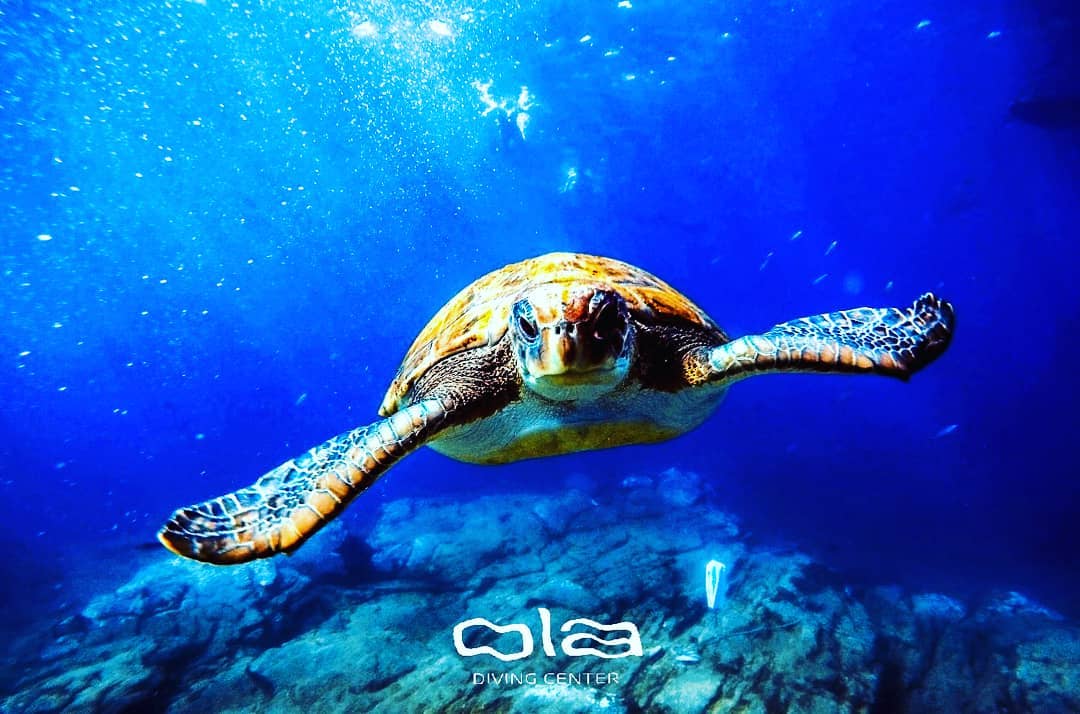 Ola Diving Tenerife is proud of our PADI Divemaster Training internship, as recognized PADI 5-star Centre in Tenerife, we can assure you that the internship is of the highest quality and the education you will receive will make you the most skilled and knowledgeable divemaster entering the PADI Pro world.
Don't worry if you are not a certified diver yet, with us you can take the necessary courses to become a professional; the qualifications you earn from our program will guide you in your career in becoming a model diver.
During your daily dives with the crew, you will be side by side with a qualified instructor and you will be assisting him during real courses with real students.
Our philosophy is simple: pay attention to details and follow PADI standards, safety standards and rules. These are the key elements that make our program stand out from the rest. Also we offer a structure that can´t be found in any diving centre in the islande all combined in one, we have two diving boats, spacious classroom, changing room with showers, and a strong compressor capable of mixing nitrox.
You will learn and dive everyday. We will teach you about all the organisation the dive centre, how to provide the proper paperwork to the customers, organisation, logistics, how to use the PADI website, how to provide the best customer service, you will learn about sales, the dive sites of the island, how to deal with different conditions and weather, how to check the best spots for the day, to provide a rich briefing and so on. Also you may learn administration, maintenance and management skills.
ALL OUR PACKAGES INCLUDES
PADI E-Learning.
PADI Certifications.
PADI Discover Scuba Diver Leader Certification and Training.
PADI Divemaster Digital Crew pack.
Standart gear: suit, mask, fins, BCD, regulator, boots, tanks, weights, compass, reel.
Gear for the specific courses.
An amazing lifestyle in a multicultural team and a sunny beach environment
Full courses up to Divemaster, trainings from A to Z…with extended courses, to become the most competent PADI Divemaster possible
Real life experience with real clients
The possibility to be involved in different key activities of the dive centre
A personal follow-up of your progress and a training adapted to your needs
Free Sidemount try out.
Free use of classroom and Ola Facility.
Discount on scuba gear through the dive shop.
50% lifetime discount on your next dives with Ola Diving after your DM certification.
Attractive discounts for PADI Specialties.
Unlimited dives during your internship.
No extra fees for boat dives.
Free Wi-fi at the dive shop.
Free coffee.
NOT INCLUDED
PADI Divemaster fee.
Mandatory gear: SMB, dive computer, dive Knife.
Dive insurance (insurance is only included for entry level)
Accomodations.
Food.
PREREQUISITES
-18 years old (17 years old from Open Water to Rescue, must complete 18 prior to starting the Divemaster part of the internship).
-Have to know how to swim.
-Have no pre-existing medical conditions that may render you unable to dive.
-Provide a medical certificate attesting that you´re fit to dive.
*If you start the internship as Rescue Diver you must have at least 40 dives (if not we may extend your internship length in order to accomplish this requirement).
PACKAGES
From Zero to Divemaster (14 weeks) - 505 euros
From Advanced Open Water to Divemaster (12 weeks) - 425 euros
From Rescue Diver to Divemaster (9 weeks) - 345 euros
Only Divemaster Course (6 weeks) - 270 euros
Optional: for an additional cost of 75 euros we include the PADI Enriched Air Nitrox course to the pack.

What our internship is NOT about:
Slavery, forcing staying late in the shop, not previously mentioned charges about gear or boat dives, poor briefings and courses with training gaps, rushing, being subject of bad logistics or poorly planed trips.

For bookings or more information please contact info@tenerife-diving.club